Equipment Model: SBL1300SE Automatic High-speed Flat Press Die Cutting Machine (with Stripping)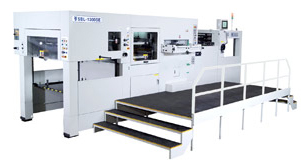 main feature:
1. Original side and back tilt adjustment mechanism.
2. The paper feeding section entrance special mechanism, paper positioning mechanism before the speed reduction mechanism to ensure accurate positioning.
3. The micro-motion adjustment mechanism of the collecting table ensures the safety of the machine table.
4. The special collection lever tapping action makes the mechanical action softer and the paper more neat.
5. Pneumatic frame locking mechanism.
6. Use a circulating oil temperature controller to maintain constant temperature and ensure that the pressure of the rolled paper does not change.
7. On-screen display system provides operation instructions and exception removal indication function.
8. The front positioning and side positioning LCD digital display adjustment accuracy is error-free.
9. To a wide range of B wave cutting capacity.
Technical Parameters:
Maximum paper size 1300×950mm
Minimum paper size 600×450mm
Maximum pull size 1290×940mm
Pulling pressure 500Ton
Paper thickness 0.1 to 2mm
Minimum scratch width 9.5mm
Folder frame size 1420×958mm
Panel size 1328×940mm
The highest pull speed 6000s/h
Variable speed main motor 15kW
Other required electricity 12kW
Total power 27kW
The length of the machine is 8088mm
Mechanical width 4482mm
Machinery full height 2244mm
Mechanical weight 20Ton

Equipment Model: STS-1050SE Automatic High-speed Flat Press Die Cutting Machine (with Stripping)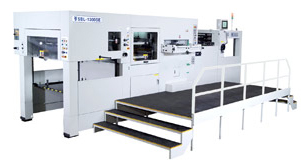 main feature:
Feeder Feeder (A)
* Wide range of paper feeding and cutting, from 400 × 370mm to 1050 × 750mm, with a maximum cutting speed of 7,500 / hour.
* Non-stop devices are attached to the paper feeding section and the collecting section to ensure uninterrupted production.
Feeding and positioning mechanism* The feed-down positioning mechanism at feeder feeder ensures precise positioning of the paper.
* Double feed and front positioning detection device can detect improper feeding.
* Use the horizontal positioning pull and push dual device to facilitate processing of different thickness paper.
* The touch screen contains a computerized automatic detection device that provides operation instructions and exception removal instructions for each part.
Rolling section (B)
* Use gripper gripper to ensure high speed stability.
* The toggle link double force mechanism is easy for high rolling shear pressure.
* Rolling shear pressure can be adjusted according to paper quality and can be increased up to 300 tons.
* Extensive range of cutting capabilities to B waves.
Debris Removal Department (C)
* Special punching and upper and lower thimble anti-dust device and bite-paper removal and discharge design can be easily used for paper scrapping.
Finished Product Collection Department (D)
The collection unit attaches a brush to adjust the pressure and paper collection mechanism to make the paper more neat.

Technical Parameters:
Maximum paper size 1050×750mm
Minimum paper size 400×370mm
The maximum rolling size 1040×730mm
Rolling pressure 300 tons paper thickness 0.1 ~ 2mm
Minimum scratch width 9.5mm
Folder frame size 1145×755mm
Panel size 1080×736mm
Maximum cutting speed 7500 sheets per hour Main motor 11.0kW
Other required electricity 14kW
Total power 25kW
Mechanical length 7016mm
Full width 4049mm
The mechanical height 2025mm
Mechanical weight 15.5 tons

The Plastic Mouse Trap for solid or liquid bait could be a popular method for rats removal and features a high tension spring to eliminate mice and alternative little pests. Each trap is easy and safe to set compared to traditional picket traps and may be set by hand or foot. The plastic Mouse Trap is made of durable plastic, these traps ranges from different size than other multi-catch traps for discreet placement beneath the piece of furniture and alternative tight areas and square measure totally reusable. The plastic mouse trap comes with a 1-year warranty.Our plastic mouse trap is to manufacture and distribute products designed to eradicate pests.
Plastic Mouse Trap
Plastic Mouse Trap,Mouse Snap Traps,Plastic Snap Mouse Trap,Rodent Plastic Mouse Trap
Huanghua Fengyi Honde Metal Factory , http://www.pestcontrolmanufacturer.com